Home
People
Location
Contact



People



El Destino is hosted by Amanda Archuleta and Tine Herreman.

Host Amanda will envelop you in her warm and welcoming aura and aim to maximize your comfort and happiness. Amanda rules the front of the house and is there for you if you have any questions or concerns. When a class is offered, Amanda either teaches it or knows all about it. A talented tango teacher and certified gyrotonics instructor, Amanda will work with you on technique, quality of movement and attentive partnering.

Host and resident DJ Tine will inspire your heart and feet with enticing tanda selections. Tine has been DJing since 2003 and has played at milongas, festivals and marathons on three continents. She is particularly fond of Di Sarli and D'Arienzo, as well as Biagi and Troilo. She plays contagious rhythmic tandas, exuberant valses and milongas, and heart-breaking emotional selections. Plus, all the music comes in the best sound quality you have heard anywhere. Tine is also the Destino graphics, print promo and web mistress.

Amanda and Tine thank our amazing team of Destino volunteers helping at the door.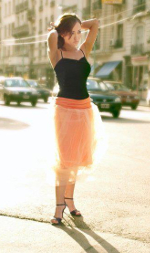 Amanda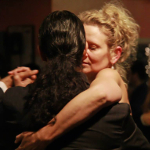 Tine